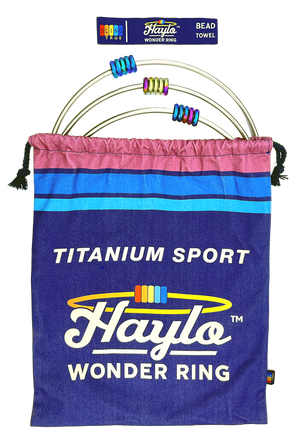 SlingTrue
Classic Wonder Ring Multi-Pack (3 Rings)
Sale price Price $74.99 Regular price $100.00
Introducing the 3 Ring Multi Pack! Save money & Share with Your Friends!~
Experience the captivating world of wonder with our 3 Ring Multi Pack Wonder Ring! This skill toy is designed to provide endless entertainment and skill-building opportunities for players of all ages, starting from 7 years and up.
Each Wonder Ring features a 10-inch diameter ring adorned with brightly colored beads. As you spin the beads and turn the outer ring, they come alive, whirling, and falling down the ring in a mesmerizing display. The unique challenge lies in keeping the beads spinning by continuously turning the outer ring.
With practice, you can unlock a world of possibilities. Toss the ring in the air while keeping the beads spinning, or explore hundreds of ways to manipulate the outer ring, enabling a realm of exciting tricks and maneuvers. Want to take the fun to another level? Pass the ring to friends and keep the beads spinning together for an exhilarating shared experience.
Engaging all your senses, you'll feel and hear the beads spinning, see them twirling and falling as you play, and witness a spectacle of colors as some rings feature beads that flash different hues while in motion. With this Multi-Pack you get three separate colors!
While most people enjoy playing with one ring, the Wonder Ring also allows for more advanced play. With practice, you can master the art of playing with two rings, or even juggle three for a dazzling performance. As your abilities grow, you'll develop your own style and favorite tricks, incorporating dance-like movements, spins, and jumps. Not only will this enhance your motor skills, but it will also foster dexterity that can be applied to other activities and games.
Are you ready to embark on an exciting journey with the Classic Wonder Ring Multi Pack? Start spinning, learning, and exploring today!
Tech Specs
Ring Material Stainless Steel
Bead Material Titanium (Anodized in 3 Half Split Color-ways)
Each Ring Comes with a Sling True Bead Towel
This Set also Includes the Limited Edition Haylo Titanium Bag!
Designed by Sling True Wonder Rings • Eugene, Oregon
Quality Made in China